The Media Monitors Podcast Listener survey was fielded between June 15th and 26th, 2020. Participants aged 18+ were screened on whether they had listened to a podcast in the last 7 days, then asked to list the podcast titles. Participants were encouraged to consult their podcast app of choice during the survey. These unassisted responses were then individually matched back to unique RSS feeds which were polled to collect information about genre and publisher.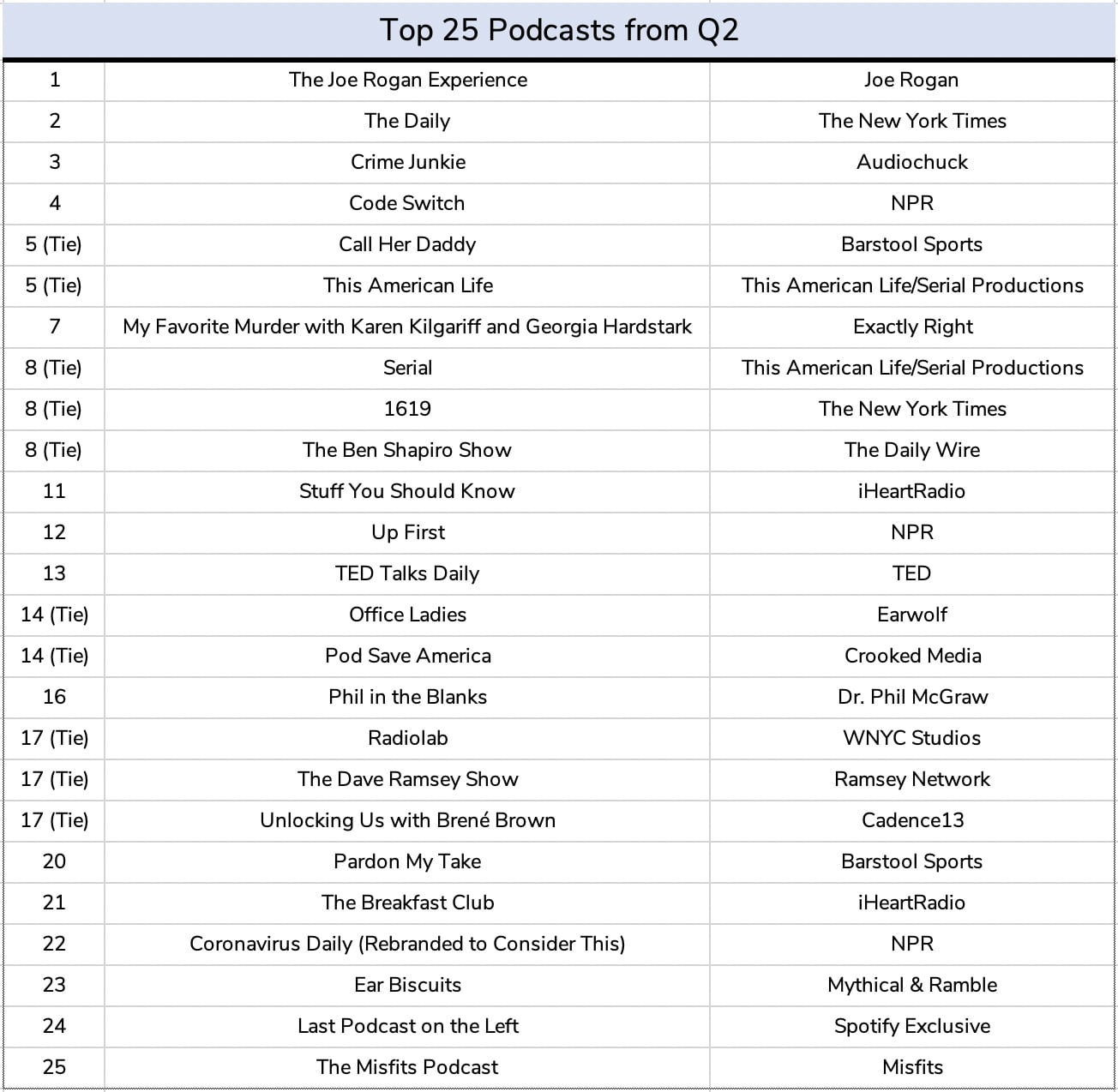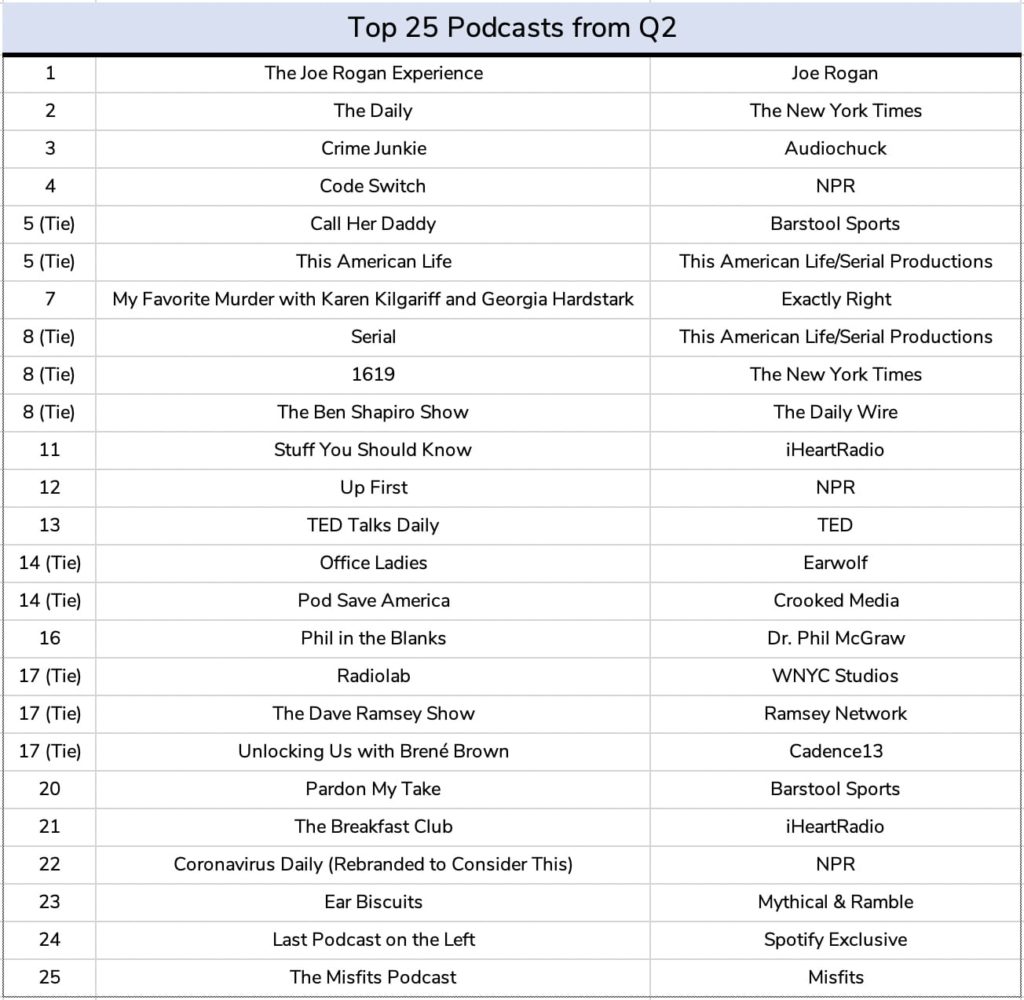 Things to Note:
The Joe Rogan Experience and The Daily from The New York Times sit atop the fray at #1 and #2 respectively. Though their placement is expected, both shows seem to have expanded their audiences since our last survey was taken. Each podcast doubled the total number of respondents that reported listening in the past 7 days.
The New York Times' 1619 saw strong gains in Q2, commensurate with increased national attention on the Black Lives Matter movement in the US and around the world.
Office Ladies appeared for the first time this quarter, likely drawing on a large dedicated fanbase from the TV series "The Office."
My Favorite Murder and Crime Junkie made repeat appearances, with MFM sliding a few spots but staying in the Top 10.
Three surprises come from in the form of comedy podcasts The Misfits Podcast, Ear Biscuits from Ramble, and Unlocking Us with Brené Brown from Cadence13.
Publishers in the Top 25
Q2 saw further consolidation in the podcast space as Spotify purchased exclusive rights to The Joe Rogan Experience (#1) and SiriusXM closed a deal to buy Midroll/Stitcher/Earwolf, the company behind Office Ladies (#14). This move gives SiriusXM some level of access to Midroll's represented shows, including titles like My Favorite Murder (signed with Midroll in December 2019), but it is unclear how that relationship will evolve moving forward.
In another more recent acquisition, The New York Times has purchased Serial Productions, the company behind Serial (#8) and This American Life (#5). Although the exact terms of the deal are unclear (including a reported "'creative and strategic' partnership with 'This American Life'"), The New York Times has clearly moved to increase their footprint in upper echelon of podcasting.
Two of NPR's daily news programs have broken into the Top 25. Up First sits at #12 alongside the new Consider This from NPR at #22 (the Consider This… RSS feed was recently rebranded away from Coronavirus Daily). Both represent challenges to The Daily's dominance in the Daily News category.
One publisher to keep an eye on, Crooked Media, makes their first appearance on our Top 25 chart with their flagship podcast Pod Save America tied at #14. Crooked has a few other podcasts in the Top 200, with Wind of Change, coproduced with Pineapple Street Studios and Spotify, leading the pack at #59.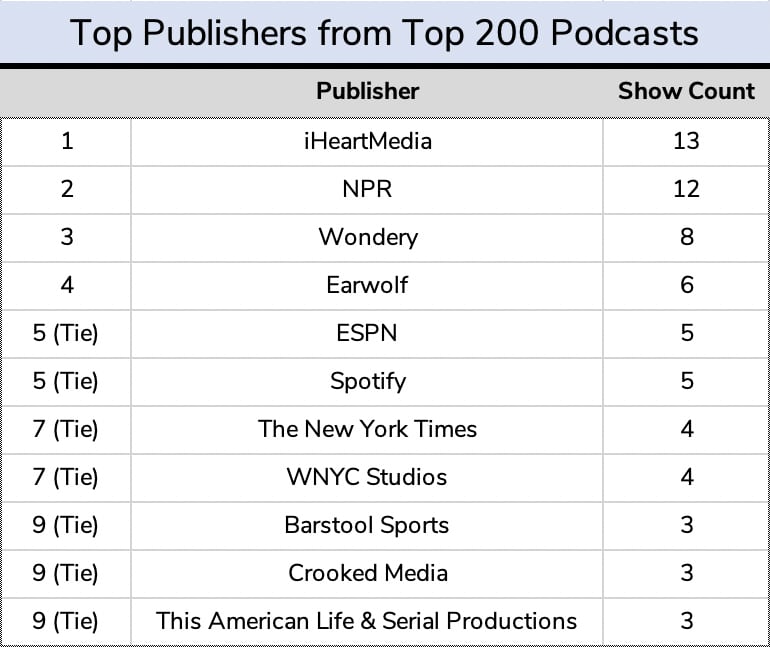 iHeartMedia leads all publishers on the Top 200 chart, with an impressive 13 podcasts. These include a mix of their radio-first properties published in podcast form, as well as their podcast-first Stuff Media properties. Coming in second is NPR with 12, followed by Wondery with 8. This seems to bode well for Wondery's new standalone app and premium service, debuted in June. It should also be noted that The New York Times (tied at 7) would jump to #4 overall if combined with This American Life & Serial Productions.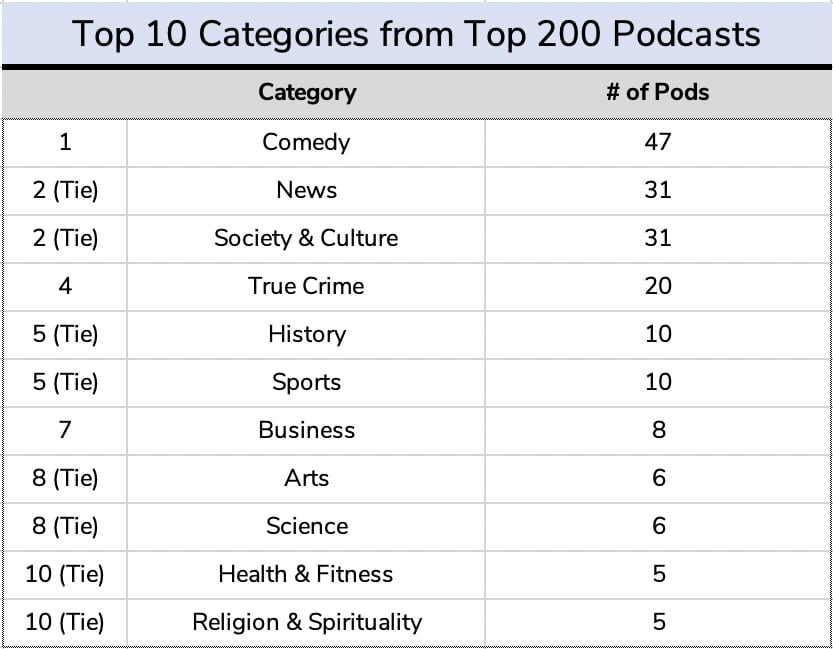 Comedy (including its several sub-categories) remains the most popular genre of podcast among our surveyed respondents with 47 podcasts. Interestingly, News is tied with Society & Culture at #2. True Crime remains as popular as ever, and Sports podcasts remain popular despite COVID cancellations.
COVID-19 Podcasts
Due in part to the dates of fielding, only 2 of the Top 200 Podcasts from our survey included COVID-19 specific podcasts. Listeners following app-specific charts in March and April might have seen a number of topical COVID-19 podcasts marching up and down the rankings daily. Of the two that made it into our Top 200, one has recently been rebranded away from COVID-19 specific issues (NPR's Coronavirus Daily RSS feed has been rebranded to Consider This from NPR), and the other sits at #50, BBC's Coronavirus Global Update.
In the coming weeks, we look forward to sharing more of our findings. Contact Media Monitors if you have questions or would like to learn more about our data.