At Kmart, the Lights Fade Out on TV, Radio and Cable
Retailers make or break their year during the period between Thanksgiving and Christmas, which means competitors and analysts pay close attention to in-store and online sales. By January, the state of the industry is clear.
But holiday sales aren't the only bellwether. There's another way to spot the winners and losers. You can read the tea leaves by looking at advertising spend.
Consider Sears Holdings Corporation, for example. The company filed for bankruptcy in October and said it would shutter 142 stores. What's more, immediately after the holiday weekend, a court filing unveiled its plans to reduce its real estate portfolio by selling more than 500 Sears and Kmart brand stores and leases.
But even before these announcements, Sears Holdings had reduced its overall advertising budget for TV, radio and cable by 22%, according to Media Monitors' advertising spend data. What might be even more telling, though, is how the company has reallocated the remaining advertising budget for these media.
RADIO WAS WAY UP
Most notably, the company increased its overall radio ad spend in 2018. Almost all of this budget is devoted to advertising its department stores. The company is spending 12 times more than it did in 2017 to promote its brick-and-mortars, indicating that making these stores profitable is (or was) a key priority.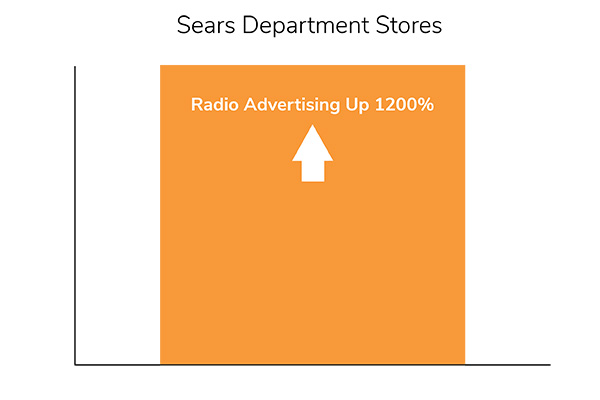 2017: THE YEAR OF TV (2018, NOT SO MUCH)
Further, in 2017, the company devoted almost 90% of its TV advertising budget to Kmart. Yet, in a move that could portend the full extent of its plans for the discount store chain, Sears did not include Kmart in its 2018 TV, radio and cable advertising budget.
Instead, Sears is using the majority of its TV budget to advertise its department stores. Also, the company directed nearly all of its cable advertising allocation to promote Sears outlet stores.
In fact, looking at advertising spend across all media, the clear priority is its department stores, followed by the outlets. Advertising for Kmart, meanwhile, has all but bottomed out.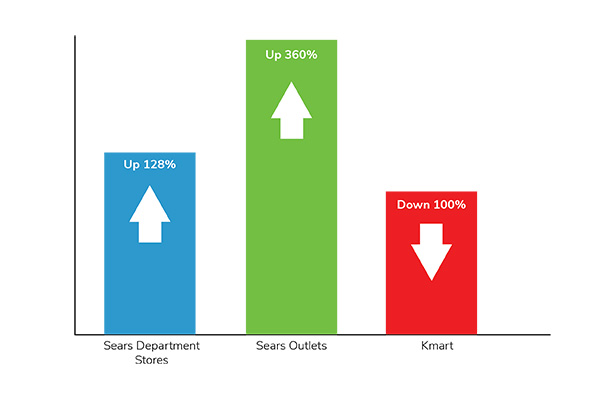 Sears Department Stores: Up 360%
Sears Outlets: Up 128%
Kmart: Down 100%
Of course, Kmart's problems aren't new. It has survived bankruptcy once before and closed most of its stores. Further, sales have declined since 2011, according to CNN, which also described Sears and Kmart as being in an "unhappy marriage."
ADVERTISING DATA IS A LEADING INDICATOR
Yes, it is true. Advertising spend data is a leading indicator of change. The retailer's decision to reallocate Kmart advertising sends a strong signal about the focus of its strategy. The data indicates Kmart is less of a priority, while at the same time, the increased investment in department stores suggests Sears may believe there's an opportunity to revive these assets.
In retail, the apocalypse may be underway at some chains, but overall the near future appears bright – at least based on holiday sales.
During the much-watched five-day period from Thanksgiving Day through Cyber Monday, which kicks off the holiday shopping season, more than 165 million Americans shopped either in stores or online. That was more than expected, but below the 174 million who shopped last year. Shoppers spent less, too: $313 vs $335 last year, according to Bloomberg.
Ultimately, however, shoppers appear likely to increase their holiday spend this year. The National Retail Federation expects a strong shopping season this year due to higher consumer confidence levels. Indeed, the NRF says it expects holiday sales to increase between 4.3 percent and 4.8 percent, predicting final numbers will land at the higher end of that range.
WHAT'S NEXT FOR SEARS
Another positive sign for the industry is that older Millennials and Gen X spent more than older generations. This isn't insignificant: Accenture predicts the 80 million Millennials in the U.S. will spend $1.4 trillion annually and represent 30% of all retail sales by 2020. What's more, 84% say they prefer to shop in department stores.
Reaching these shoppers should be a key piece of Sears' strategy. In fact, that might be why the company is investing more in advertising its department stores on radio. According to Nielsen, although digital news reaches 88% of Millennials – compared to just 23% who listen to radio news, they spend three times as many hours listening to radio news.
That makes the company's re-allocation of advertising spend appear to be right on target.
For anyone doing business with or investing in Sears, advertising spend data provides powerful insights that stakeholders can't afford to ignore. Broadcasters, for example, can track advertising spend data in the retail sector to understand which retailers to pitch and tailor advertising proposals to their needs. Market analysts can use the data to inform investing decisions, while competitors are able to identify weaknesses to exploit.
And it's not just retailers. All industries benefit, as we illustrated in our recent story about how Ford's ad spend provides early insight into its roadmap.
Want to learn more? Be sure to sign up to receive our next analysis.