In the shadow of the ongoing pandemic and the resulting surge of COVID-19 related podcasts, Media Monitors added a selection of COVID and trust-in-media related questions to our recent Q2 Podcast Listener Survey.
With Daily News podcasts like The Daily and Up First climbing charts and challenging behemoths like Joe Rogan, it is unsurprising that News is the second largest category in our Q2 Podcast Listener Survey (tied with Society & Culture). With the popularity of the category and the surge of pandemic-related podcasts, we began by asking respondents: Do you use podcasts as a source for COVID-19 or pandemic-related information?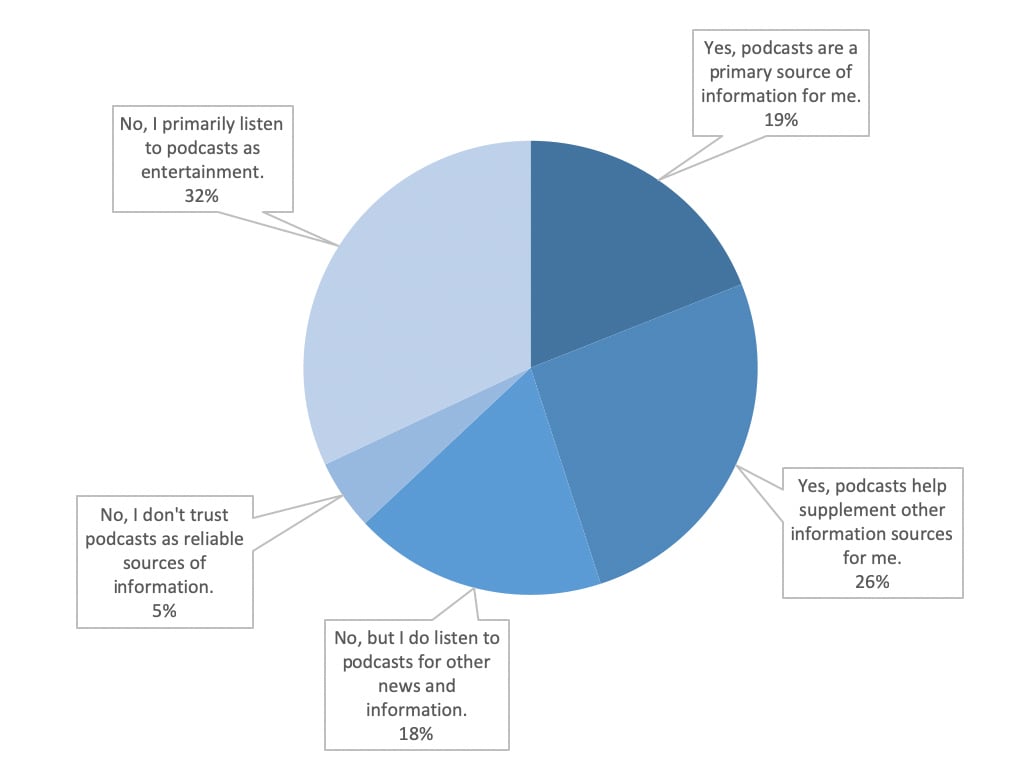 COVID-19 Informational Podcasts
Of our 985 respondents, 45% (442) responded that podcasts were either their "primary source" of information about the COVID-19, or that "podcasts help supplement other information sources" about the disease.
While 32% of respondents said they primarily use podcasts as purely "entertainment," 18% of respondents indicated that they used podcasts to consume other non-pandemic related news and information.
Following up, we asked the "primary" and "supplemental source" respondents:
Pre-pandemic, did you routinely look to podcasts as a source of need-to-know information?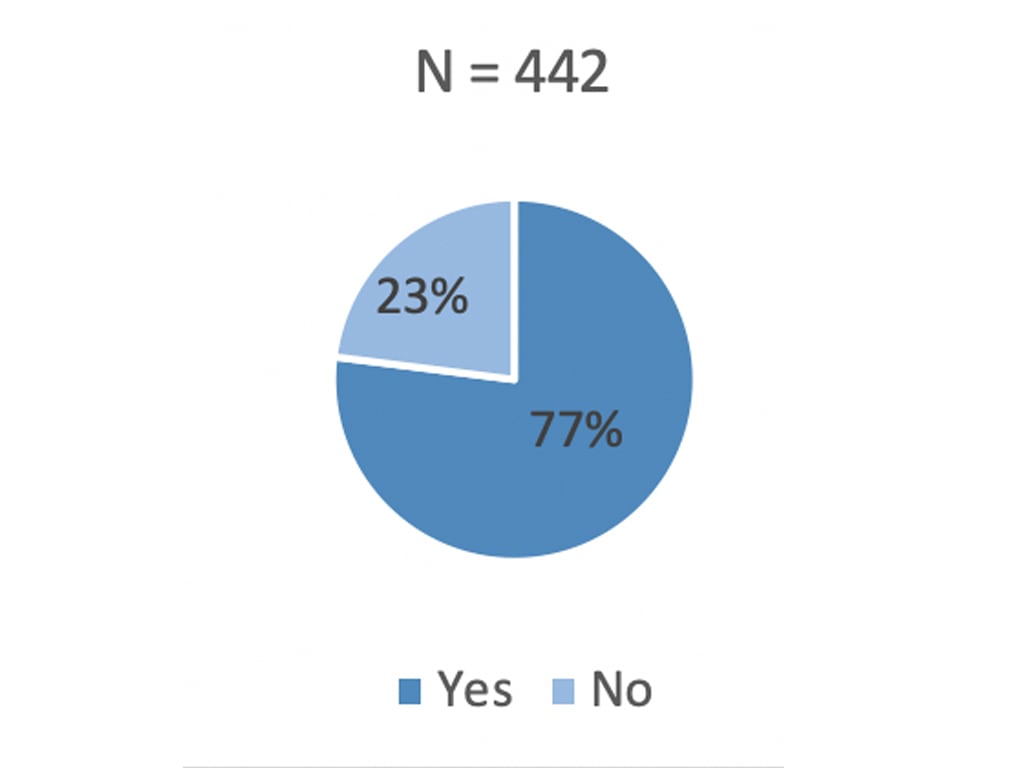 23% of listeners using podcasts as a source for news about COVID-19 did not use podcasts as a source of need-to-know information prior to the pandemic.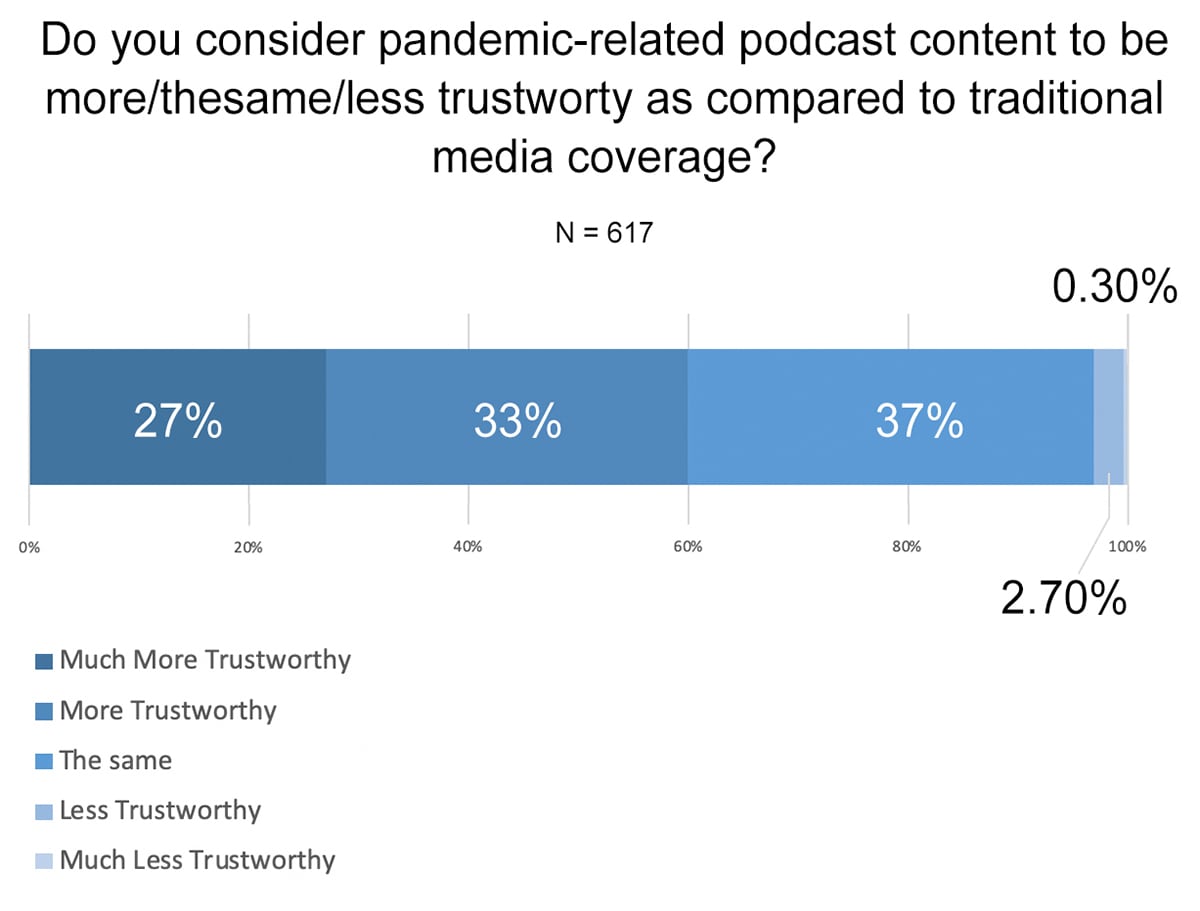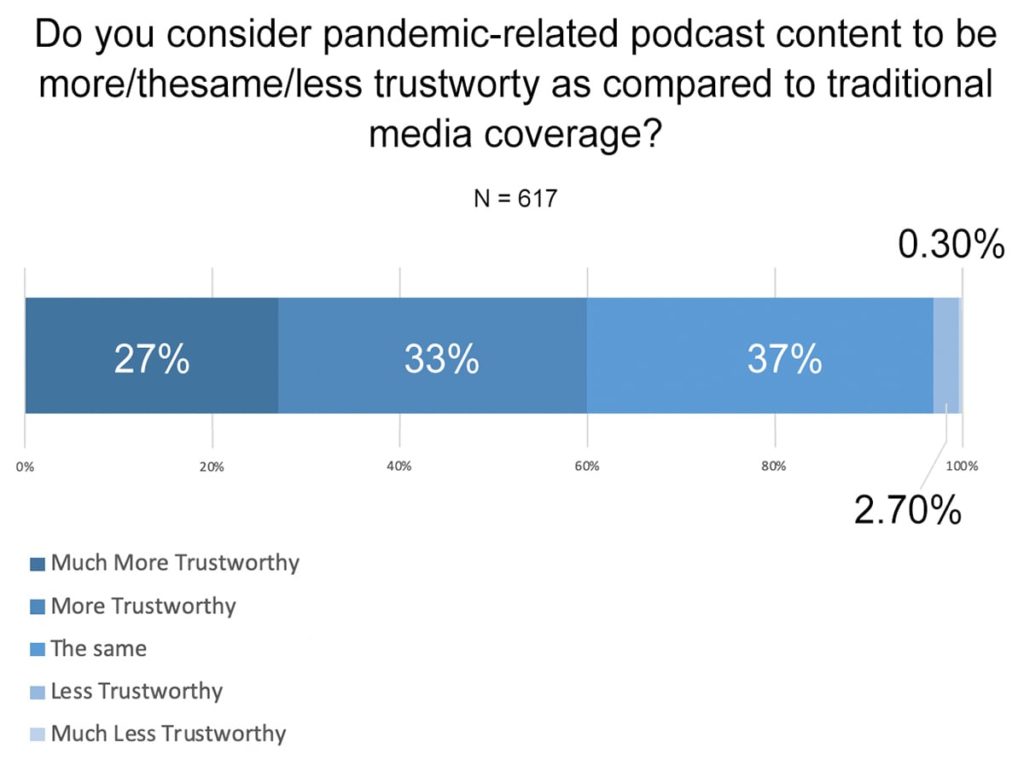 The above sample of N=617 is comprised of respondents that indicated podcasts were a "primary source," "supplemental source," or that they used podcasts to consume "other news and information."
Only 3% of respondents listed podcasts as Less or Much Less Trustworthy, while 60% said podcasts were More or Much More Trustworthy compared to traditional media coverage of the pandemic.
In a separate question, 65% of all respondents (N=985) agreed or strongly agreed with the statement "Podcasting is a medium well-suited to provide important, detailed information in a timely manner" whereas only 13% disagreed.
Conclusion
COVID-19 has had wide reaching impacts on all aspects of media consumption. In podcasting, it has led to a significant increase in willingness to consume need-to-know information from a less mainstream source. This shift in consumption seems likely to be cemented by the sentiment that podcasts are trustworthy and reliable sources of information.
Podcasting shows continued growth despite the unpredictable nature of the pandemic. According to the IAB, "2020 US podcast advertising revenue [is] expected to increase by 14.7% despite COVID-19."
Further proof of podcasting's resilience can be seen in iHeartMedia's report, "Digital revenue continues to show healthy growth, driven by our leading podcasting business…" A glance at the other large players in podcasting seems to confirm the sentiment, with the recent move by The New York Times to acquire Serial Productions, SiriusXM's move to buy Simplecast and Stitcher/Midroll, and Spotify's announcement that Joe Rogan will become a Spotify Exclusive by the end of the year.
In the coming weeks, we look forward to sharing more of our findings. Contact Media Monitors if you have questions or would like to learn more about our data.