GEICO, Progressive, Liberty Mutual Lead Top 10 Across Media, While Domino's and Burger King Commit to Local Cable
Insurance providers advertised robustly in the second quarter of 2020, airing 9.3 million spots across radio, television and local cable – an increase of more than 1.5 million instances compared to the same period in 2019, according to Media Monitors' rankings of the top 10 advertisers from April 1, 2020, to June 30, 2020.
As advertisers adjusted their media plans in response to the pandemic and protests across the United States, the top 10 leaderboards were reshuffled, although insurance providers led the way. GEICO was the number one advertiser on broadcast TV, while Liberty Mutual took the top spot on local cable. Meanwhile, Progressive aired the most spots on radio.
"First with the pandemic and then in response to protests, advertisers quickly pivoted their advertising, adjusting media plans and releasing new creative to address changes in consumer needs and expectations," said Philippe Generali, president and CEO of Media Monitors. "Even in the uncertain environment, our analysis shows remarkable consistency from Q2 2019 to Q2 2020. Insurance providers, fast-casual-quick service restaurants and local car dealers remain the top advertising categories."
Here's a look at who advertised the most on radio, broadcast TV and local cable in the second quarter of 2020.
LOCAL CABLE
The three categories that ranked highest on local cable in the second quarter of 2020 were also the leaders in the 2019 second quarter, with Fast Casual-Quick Service Restaurants ranking as the number one category. In addition, two categories increased the number of spots they aired in Q2 2020 as compared to Q2 2019. Insurance Providers aired 240,400 more instances, while the Candy, Gum, Confectionary & Snacks category increased their spots by 121,392.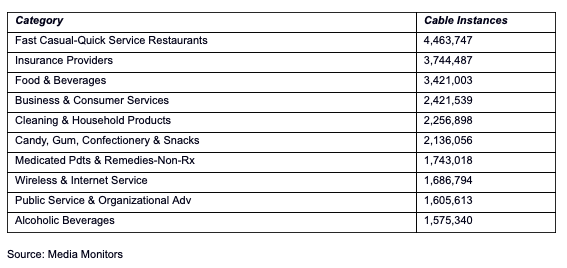 Insurance Providers – the number two category – comprised four of the top 10 advertisers on local cable. Liberty Mutual Insurance and GEICO ranked first and second, respectively, while Progressive Insurance took the number three spot. State Farm moved up to number eight. Four advertisers were new to the leaderboard: Domino's (#6), XFINITY (#7), Carvana (#9) and Amazon.com (#10).
GEICO aired more spots on cable than it did in on either cable or TV, while competitor Progressive favored radio. In early April, GEICO sent a letter to all of its customers announcing a premium credit designed to provide support during the pandemic. Spots airing that month promoted the giveback.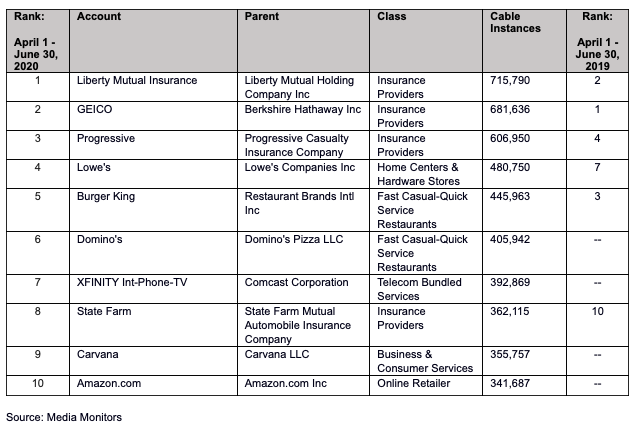 RADIO
On radio, the Insurance Providers category took the number one spot. Insurance providers aired 803,954 more spots on radio in the second quarter of 2020 than they did during the same period last year.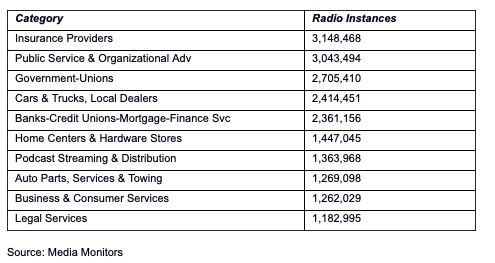 Six of the top 10 radio advertisers are new to the list in 2020, including the U.S. Census Bureau, which ranked fourth. Its $500 million campaign featured more than 1,000 ads and had a goal of reaching 99% of U.S. households. The massive public education campaign was designed to communicate the importance of responding to the census and was set to run across all media from January 14 through June 28.
Other newcomers on the top 10 leaderboard include Babbel (a German subscription-based language learning app and e-learning platform), Allstate Insurance, Quicken Loans, Vicks, O'Reilly Auto Parts and Capital One, according to Media Monitors data.
Major moves in this category included insurance provider Progressive, which jumped to the number one spot from number four during the same period last year. Home Depot, which previously held the top spot, fell to sixth.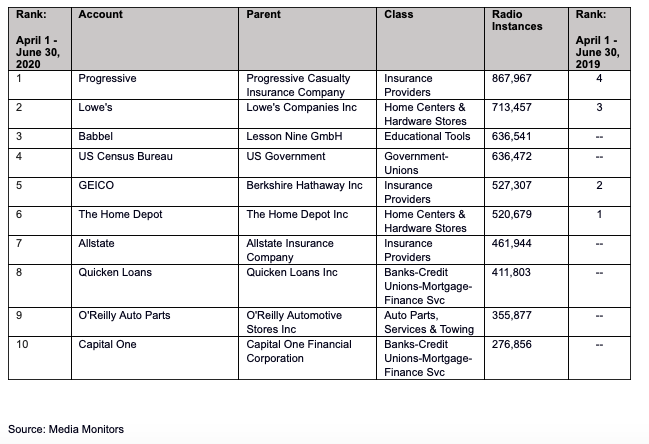 BROADCAST TV
The Insurance Provider category aired 2,412,071 spots on broadcast TV in Q2 2020, propelling it to the number one spot, up from third in the same period last year. The Legal Services category ranked second, while the Cleaning & Household Products category followed at number three. The Fast Casual-Quick Service Restaurants category dropped two spots to number four.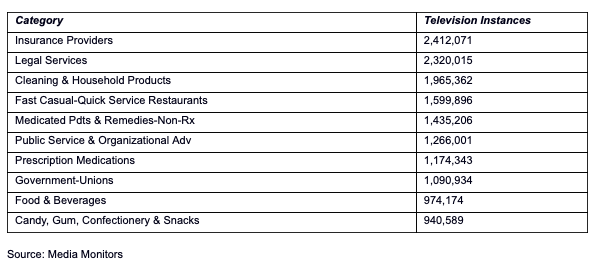 The top 10 ranking for broadcast TV was also reordered with six new advertisers. The Census Bureau secured the number three spot with 293,316 instances. The Centers for Disease Control & Prevention (CDC) entered the leaderboard, airing prevention tips for COVID-19. Several CPG brands were among top 10, including Neutrogena (#4), Febreze (#6), Tide (#7), and Colgate (#9).

"Even as the advertising landscape has shifted dramatically in the first half of the year, insurance providers are still leading the way and the category remains an opportunity for stations," says Generali. "We still anticipate a surge of political advertising as we head into the fall, but we also expect traditionally strong categories such as Fast Casual-Quick Service Restaurants to remain stalwarts. In addition, we'll be keeping an eye on emerging categories such as Cleaning & Household Products."