Media Monitors Exclusive: Female Listeners Push True Crime Category While Male Listeners Gear Towards Sports and Comedy
Podcast analytics and measurement remain as siloed as ever, even as the industry reaches 1 billion in yearly revenue. Podtrac, a third-party chart based on downloads and unique audience gleaned from redirect links, only lists Publishers that agree to use Podtrac's prefix on their RSS feeds. Solutions like Chartable instead provide a side-by-side comparison of first-party charts from iTunes and Spotify — charts that only represent the respective platform's userbase. Triton Digital has also announced a forthcoming chart, similar to their offering in Australia, but still limited to publishers willing to grant access to server logs.
Unique Downloads and Unique Listeners remain the currency of choice for most charts and publishers, but there exists disagreement around the details of both measurements. While the IAB provides their Podcast Measurement and Technical Guidelines v2, monitoring the implementation of the guideline via a certification process, the fact remains that implementation details vary, and each publisher has ultimate control over their data. There is not yet an agreed upon global chart that can act as a democratic arbiter of popularity and truth.
As a result, Media Monitors decided to take a step back from metrics and reach out to listeners directly.
The Media Monitors Podcast Listener survey was fielded between January 5th and 8th, 2020. Participants were screened on whether they had listened to a podcast in the last 7 days, and if so, asked to list what those podcasts were. We deployed Listen Notes search API to provide title matching in order to keep the data as clean as possible, while allowing respondents to submit answers unassisted.
The total number of podcasts consumed by respondents broke down as follows: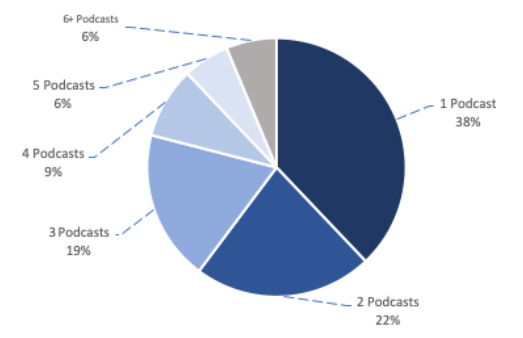 Top respondent locales included California, Virginia (DC included), Texas, New Jersey, Florida, New York, and Georgia. The respondents skewed younger, the overwhelming majority between the ages of 16 and 30. The top 25 responses submitted via unassisted recall were as follows: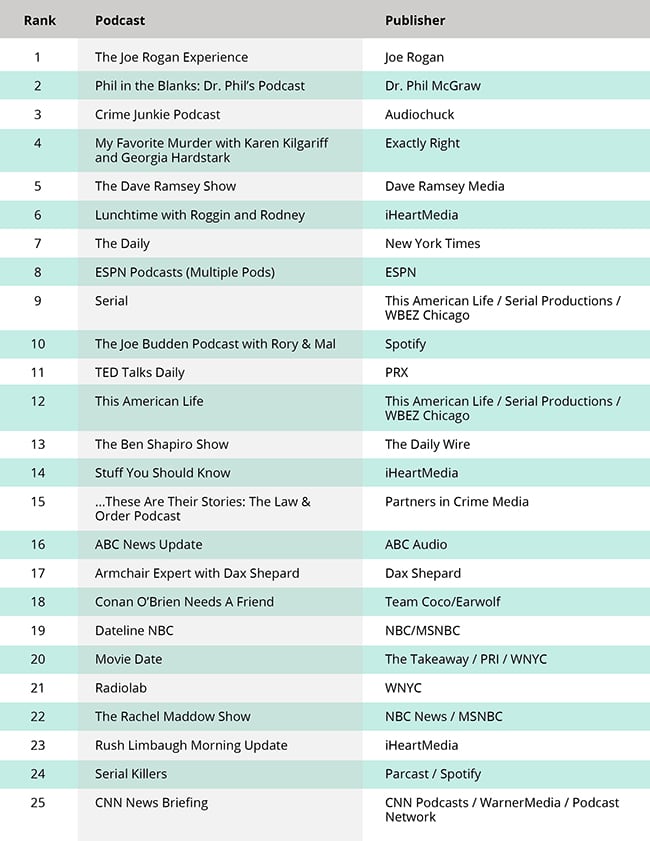 "The Joe Rogan Experience" is number one among men and women, in every income bracket, among listeners of any education level and in every region. The program also ranks first in every age bracket except 35-44, where it sits at number two.
When broken out by income level, education level, and age, the rest of the top 25 saw little change outside of slight shuffling in ranking. When broken down by gender however, the differences in category preference and specific podcast choice became clear.
Men primarily listen to News podcasts, followed by Sports and Comedy. Women by contrast lean heavily into Society & Culture related podcasts with True Crime coming in a close second.
"Crime Junkie," though it comes in at #3 overall, does not appear on the Top 15 list for Males, as is the case for all of the True Crime podcasts in Women's Top 15 – "My Favorite Murder" (#4 overall), "Dateline NBC" (#19 overall), and "Serial Killers" (#24 overall).
Podcasts that appear on both Men and Women's top 15 include "The Joe Rogan Experience", The New York Times' "The Daily," "The Joe Budden Podcast with Rory & Mal," "The Ben Shapiro Show," "The Dave Ramsey Show," and of course, "Serial."
Top Categories
Comedy distinguished itself as the dominant category for podcasts with 23 shows in the Top 100 including "The Joe Rogan Experience," "Armchair Expert with Dax Shephard," and "Conan O'Brien Needs a Friend" all making the top 25.
True Crime is a relatively unexpected hit, with 4 shows making the Top 25 and 11 in the Top 100.
Comedy podcasts of note: "2 Bears 1 Cave with Tom Segura & Bert Kreischer" at #28 (YMH Studios), "VIEWS with David Dobrik and Jason Nash" at #38 (Cadence13), "H3 Podcast" at #50 (Ethan Klein), and "This Past Weekend w/ Theo Von" at #56 (Theo Von).
True Crime podcasts of note: "Casefile True Crime" at #59 (Mike Migas), "Sword and Scale" at #74 (Incongruity & Kast Media), "Twisted Love: Bringing A Murderer To Justice" at #76 (Dr. Phil McGraw), and "True Crime Garage" at #81 (True Crime Garage).
Publisher Totals
iHeartMedia takes the top spot with 11 podcasts throughout the Top 100. NPR, similarly positioned in the industry, follows closely behind with 9. Spotify, with its recent acquisitions of Parcast, Gimlet and The Ringer, takes 3rd with 4 podcasts in the Top 100.
The top 10 publishers (by number of podcasts in the Top 100) represent less than half of the podcasts that appear. Even with major entities like iHeartMedia, NPR, and Spotify, leading the charge towards mainstream podcasting, the medium remains as diverse as ever.
We look forward to future iterations of the survey and sharing our findings with the industry. Contact Media Monitors if you have questions or would like to learn more about our data.