The Media Monitors Podcast Listener survey was fielded between September 14th and 30th, 2020. Participants aged 18+ were screened on whether they had listened to a podcast in the last 7 days, then asked to list the podcast titles. Participants were encouraged to consult their podcast app of choice during the survey. These unassisted responses were then individually matched back to unique RSS feeds which were polled to collect information about genre and publisher.
Top Publishers from Survey's Top 200 Podcasts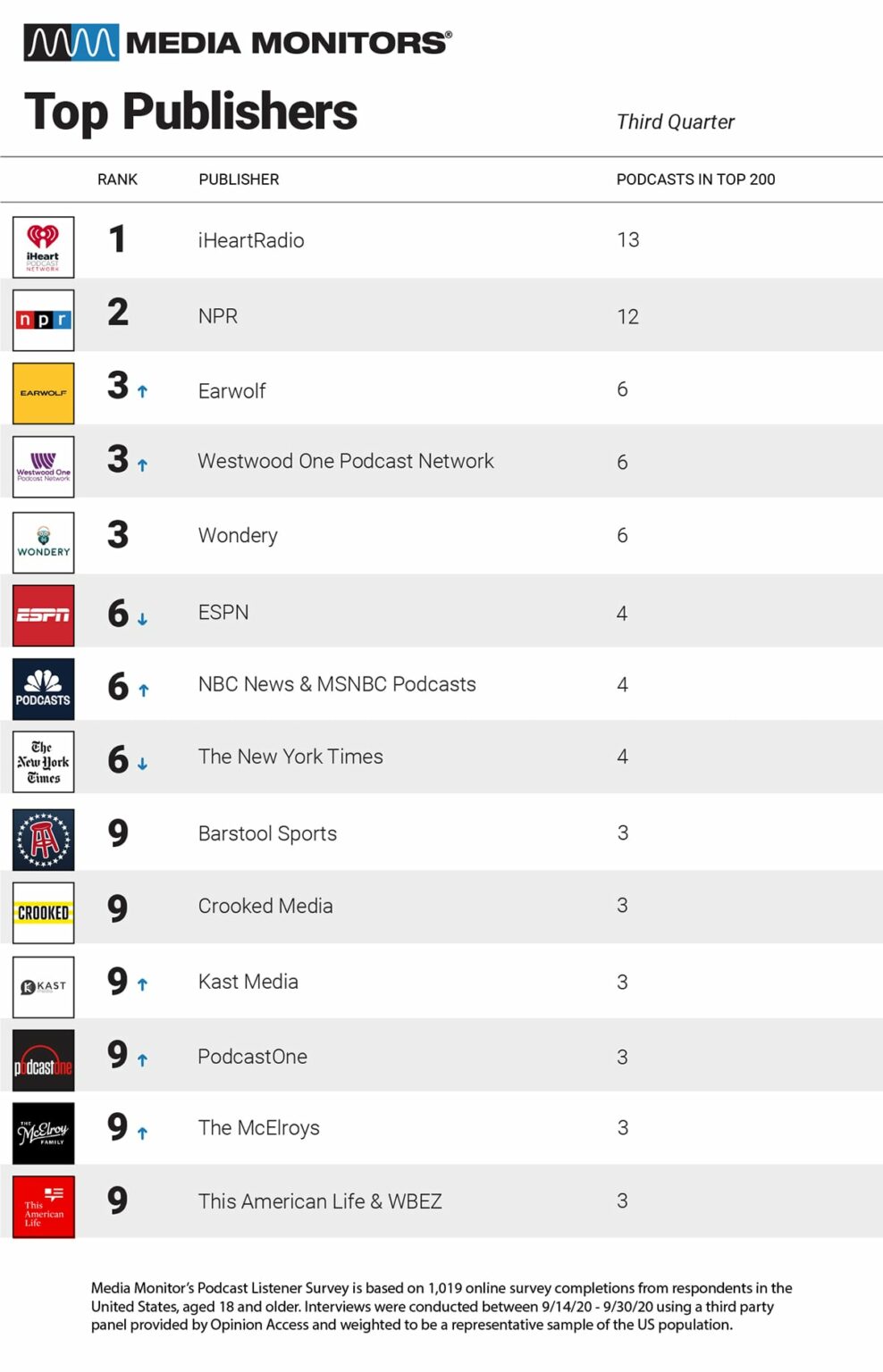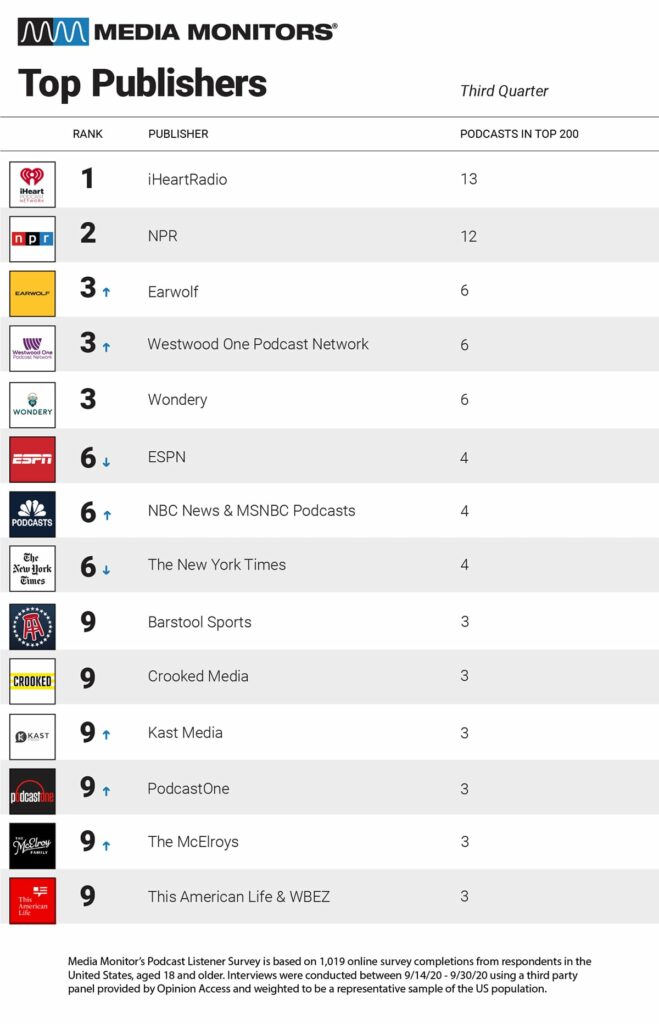 iHeartRadio leads all publishers on the Top 200 chart with 13 podcasts, narrowly beating out NPR with 12. iHeartRadio's ability to advertise and promote new and existing shows across their radio networks seems to have an impact on their ability to keep their large stable of shows top-of-mind for respondents.
In Q2 Wondery placed third with 8 shows in the Top 200, an impressive climb after launching their new app. The increase was short-lived however, as Q3 finds Wondery tied with Earwolf and Westwood One at 6 shows a piece.
Similar to last quarter, it's important to note that The New York Times 4 podcasts would jump into 3rd place if combined with This American Life/WBEZ. Nice White Parents was counted only as a New York Times podcast.
Making their first appearance on our publisher chart, The McElroy family has 3 podcasts in the Top 200: Sawbones: A Marital Tour of Misguided Medicine (#41), The Adventure Zone (#44), and My Brother, My Brother And Me (#27).
Top 25 Podcasts from Q3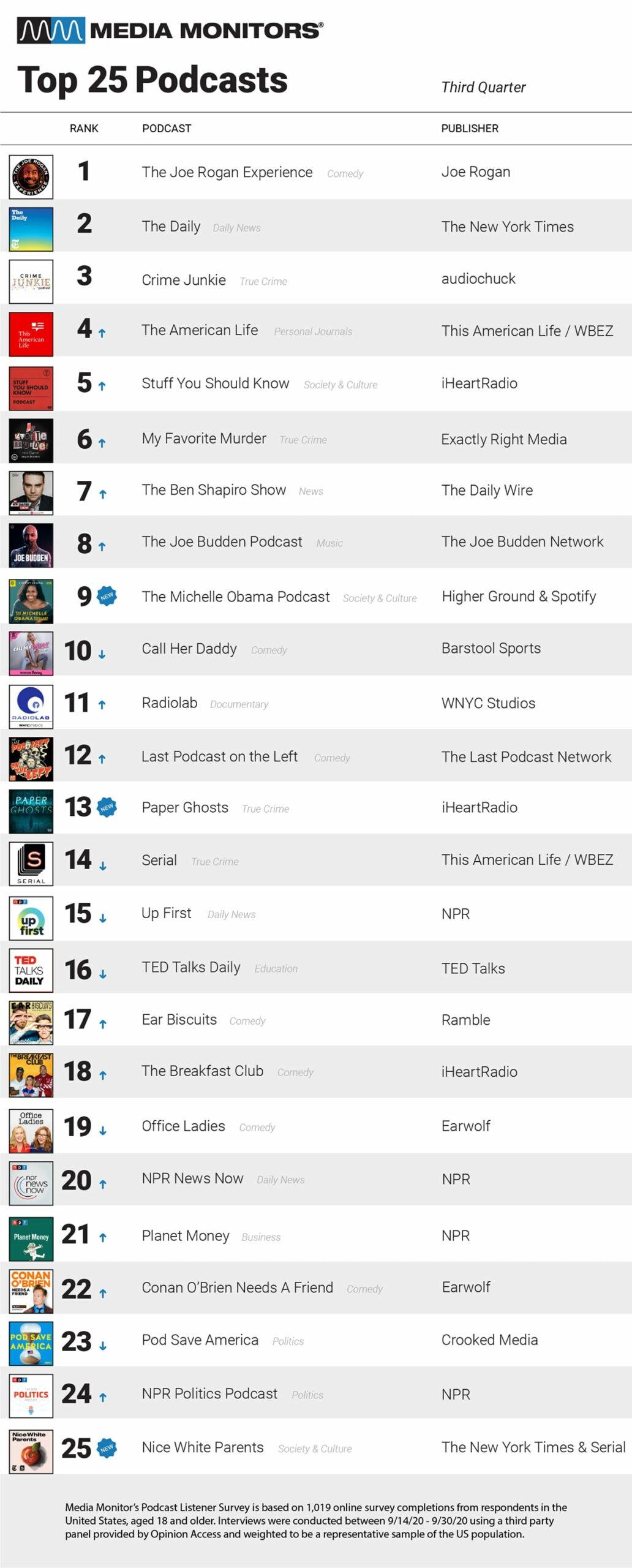 Things to Note:
The Joe Rogan Experience, The Daily, and Crime Junkie retain their top 3 positioning while maintaining and slightly increasing the number of responses we saw from last quarter.
Paper Ghosts, a True Crime podcast from iHeartRadio, is a newcomer to our Top 25. As mentioned above, iHeartRadio has been advertising the show (and others) on their radio stations across the country, which has translated to a strong debut.
Two shows conspicuously absent this month include 1619 from The New York Times and NPR's Code Switch. Both shows saw strong increases in reported listening through Q2 but as the national conversation around race has increasingly shifted towards the election, both have moved back down our chart.
Another newcomer to our charts is The New York Times and Serial coproduction of Nice White Parents. The show is currently being published in both the legacy Serial RSS feed as well as its own.
The Joe Budden Podcast has released its first post-Spotify episodes to a Soundcloud RSS feed. Released with his new Joe Budden Network logo, the full library of episodes has not yet been uploaded and skips from episode 177 to 383. It's unclear if the missing episodes will be released outside of Spotify. Episode 383, the first episode post-Spotify was initially included in the Spotify library for the show, but has since been removed.
Top 10 Categories from Top 200 Podcasts
| | Category | # of Pods |
| --- | --- | --- |
| 1 | Comedy | 58 |
| 2 | News | 34 |
| 3 | Society & Culture | 23 |
| 4 | True Crime | 21 |
| 5 | Sports | 13 |
| 6 | Business | 9 |
| 7 | Arts | 7 |
| 8 | History | 6 |
| 9 | Leisure | 5 |
| 10 | Science | 5 |
The number of Comedy podcasts in the Top 200 saw a dramatic increase from 45 in Q2 to 58 in Q3. News also saw an increase, going from 31 to 34. Society & Culture dopped off a bit, staying in third place overall while shedding 8 podcasts. Podcast listeners still love True Crime, and Sports podcasts are up by 3.
Notable comedy podcast additions from Q2 to Q3 in our Top 200: SmartLess (#34) with Jason Bateman, Sean Hayes, and Will Arnett; Sawbones: A Marital Tour of Misguided Medicine (#41) from The McElroys; and Fake Doctors, Real Friends with Zach and Donald (#113) from iHeartRadio.
Contact Media Monitors if you have questions or would like to learn more about our data.