GEICO and Babbel Lead Media Monitors' Rankings of Top Cable Advertising Accounts
A key advertising theme has emerged in the first two months of 2021: household cleaning supplies.
Procter & Gamble was once again the number one parent advertiser on local cable, radio and broadcast television. The consumer packaged goods company aired its most number of spots on television, followed by cable. In addition, it increased instances across all three media. Overall, it aired 25,176,258 spots in January-February 2021, compared to 21,843,748 over the same period last year – an increase of 15.26%, according to Media Monitors' latest rankings of top advertisers.
"The market demand for household cleaning supplies remains strong, especially through the winter, as cold weather keeps Americans at home and we're not out of the woods with the pandemic yet," said Media Monitors President and CEO Philippe Generali. "CPG companies like Procter & Gamble want their products to be top of mind with maximum reach right now, and that's why we're seeing their instances increase in the early months of 2021."
Insurance providers, including GEICO, Progressive, Liberty Mutual and Allstate continued to maintain a strong presence across all media, with GEICO leading the local cable rankings.
Meanwhile, Discovery Inc. launched its new streaming service, Discovery Plus at the start of the year and supported it with local cable advertising in January and February, airing 6,301,086 instances over the period.
Top Cable Advertisers
In addition to Discovery+ and GEICO, the top 10 advertisers on cable include four quick service restaurants: Domino's (4), Burger King (7), Subway (8) and Taco Bell (9). In addition to number two GEICO, the top insurers advertising on cable are Liberty Mutual (3) and Progressive (5).
Liberty Mutual, Domino's and Progressive also aired more instances in January-February 2021 than they did during the same period in 2020.
Top Radio Advertisers
Babbel, the language learning app, pushed out insurance provider Progressive as the number one advertising account in Media Monitors' radio rankings. The company aired 2,826,960 spots, just slightly ahead of the 2,766,330 instances aired by Progressive.
Top Broadcast TV
Insurance providers also were three of the top four advertisers on broadcast TV. With cleaning and healthcare products in high demand, both Procter & Gamble (1) and Johnson & Johnson (2) increased the number of spots they aired between January 1 and February 28. Reckitt Benckiser, the maker of Lysol and other household products, ranked number three.
Several other parents increased the spots aired on broadcast TV compared to last year, including Berkshire Hathaway Inc (4), The Hershey Company (6) and L'Oreal (7).
"As we head into spring and summer, the percentage of the population vaccinated will increase and lock-down restrictions may start to loosen more broadly – potentially leading to new categories of advertisers increasing their airtime. This might include categories that have been impacted by the pandemic such as travel, which many have been craving for months. Additionally, since some people are still likely to stay close to home, we expect home improvement advertisers to air more spots."
Keep ahead of current advertising trends with Media Monitors. Sign up today to receive news about future rankings.
Top Advertising Accounts and Top Parent Advertisers: January-February 2021 Rankings
CABLE
Top Advertising Accounts in Local Cable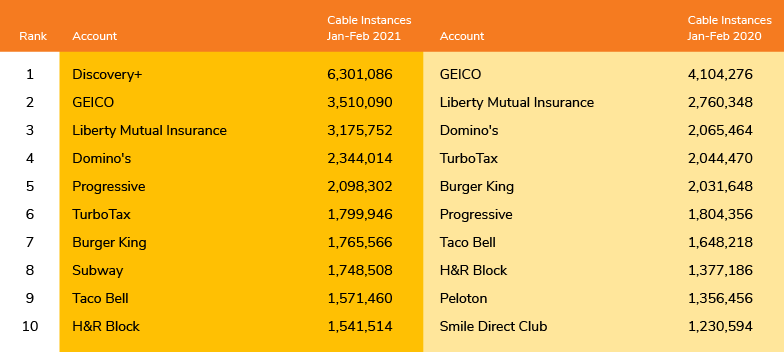 Top Parent Advertisers in Local Cable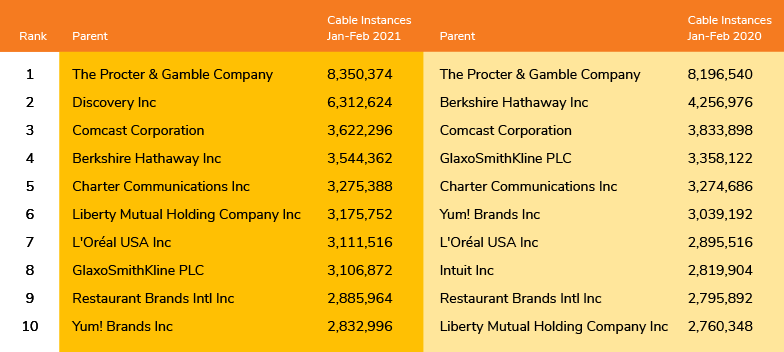 RADIO
Top Advertising Accounts in Radio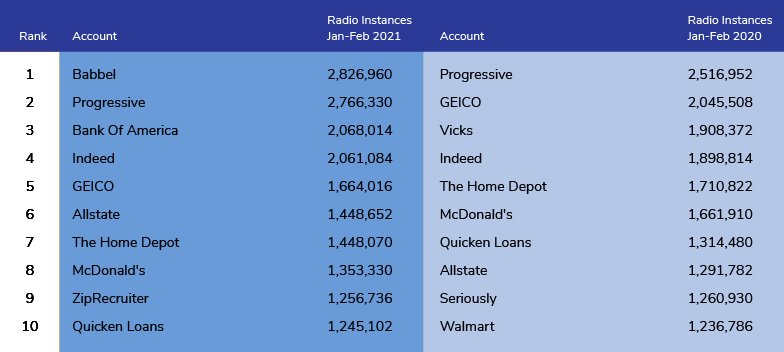 Top Parent Advertisers in Radio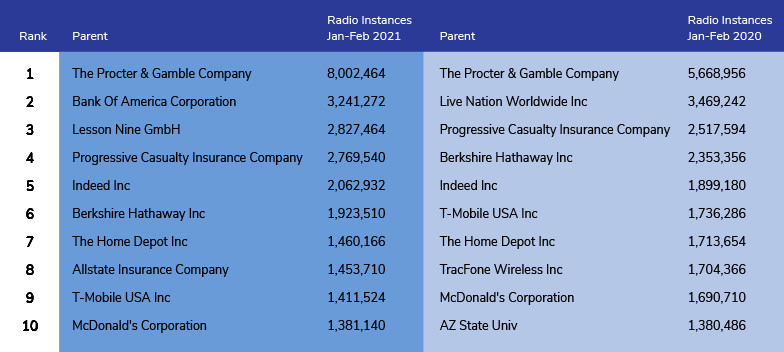 BROADCAST TV
Top Advertising Accounts in Broadcast TV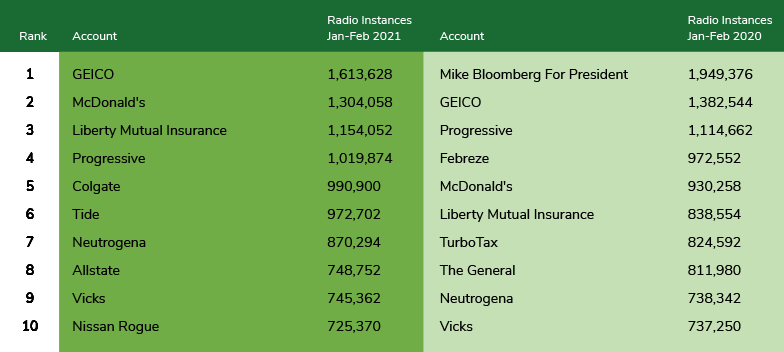 Top Parent Advertisers in Broadcast TV