McDonald's, Wendy's and Taco Bell Top Media Monitors' New Rankings of QSR Advertisers
Drive-thru pick-up windows have proven to be a built-in edge for quick-service restaurants in the COVID-19 era, but the secret marketing weapon? Menu items. McDonald's collaboration with Travis Scott led to a shortage of burgers at some restaurants, while Wendy's new breakfast, which it began serving in March, is a hit with customers. The fast food chains rank #1 and #2, respectively, in Media Monitors' latest rankings of top advertisers in the category.
Fast food is the only dining segment that began its recovery as early as May, and there are now  longer lines and wait times at their drive-thrus. Sales are increasing as the restaurant chains market promotions like the Travis Scott meal.
"People still want to eat out, but don't feel comfortable sitting inside," says Philippe Generali, President and CEO of Media Monitors. "As the weather gets colder, fast food advertisers have an opportunity to drive higher demand by focusing on the menu, a strategy that's already proven to be very effective this year."
The top 50 fast food advertisers aired a combined 5.75 million spots between January 1 and September 30, 2020. Overall, the top 50 aired more than half of instances – 54% – on radio and one-third of their spots on television.
Taco Bell, which ranked #3 overall, aired nearly all of its instances on radio. Meanwhile, Subway – the #3 advertiser overall in 2019 – fell to #18 in the latest analysis.
Among the top 10 overall, five advertisers – McDonald's, Wendy's, Taco Bell, Domino's, and DQ Dairy Queen – aired more spots on radio. By contrast, Jack in the Box, Sonic, Papa John's, Checkers-Rally's and Arby's, aired the majority of their spots on television.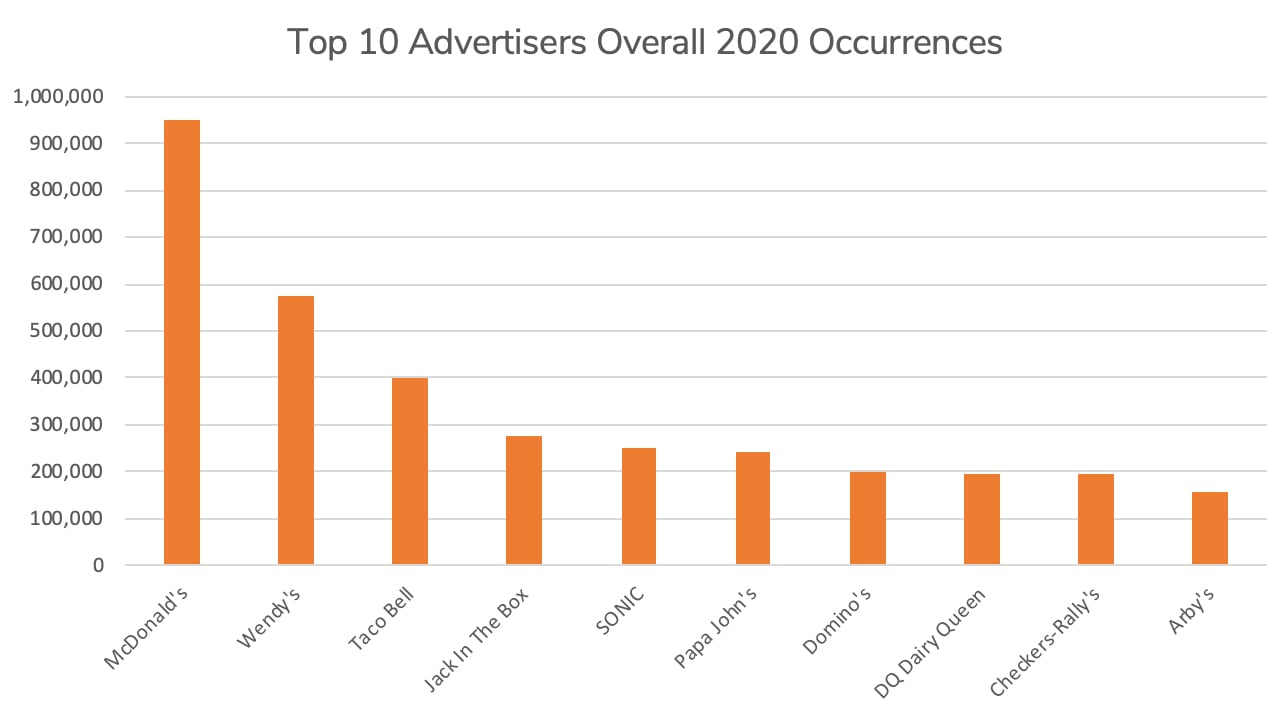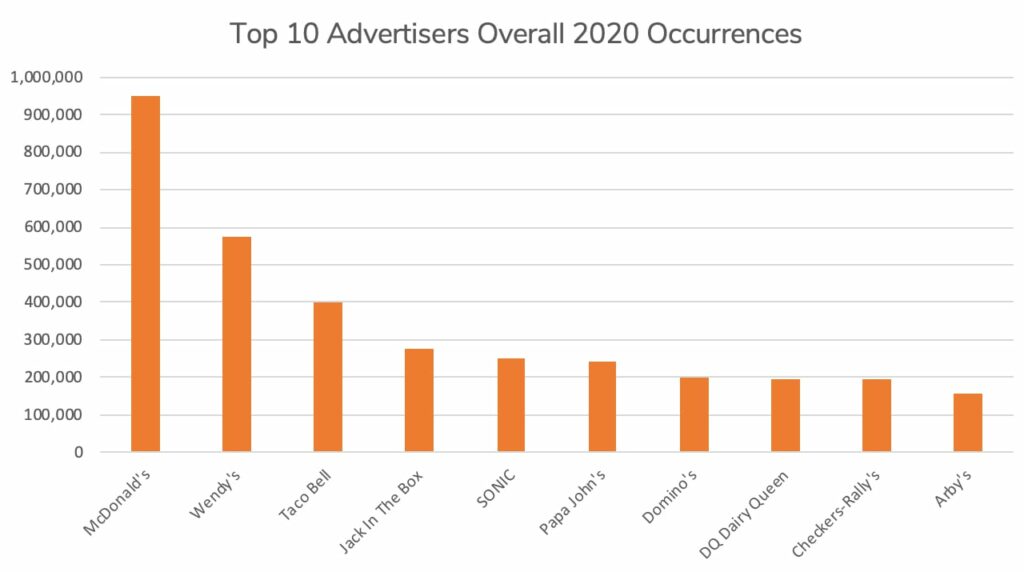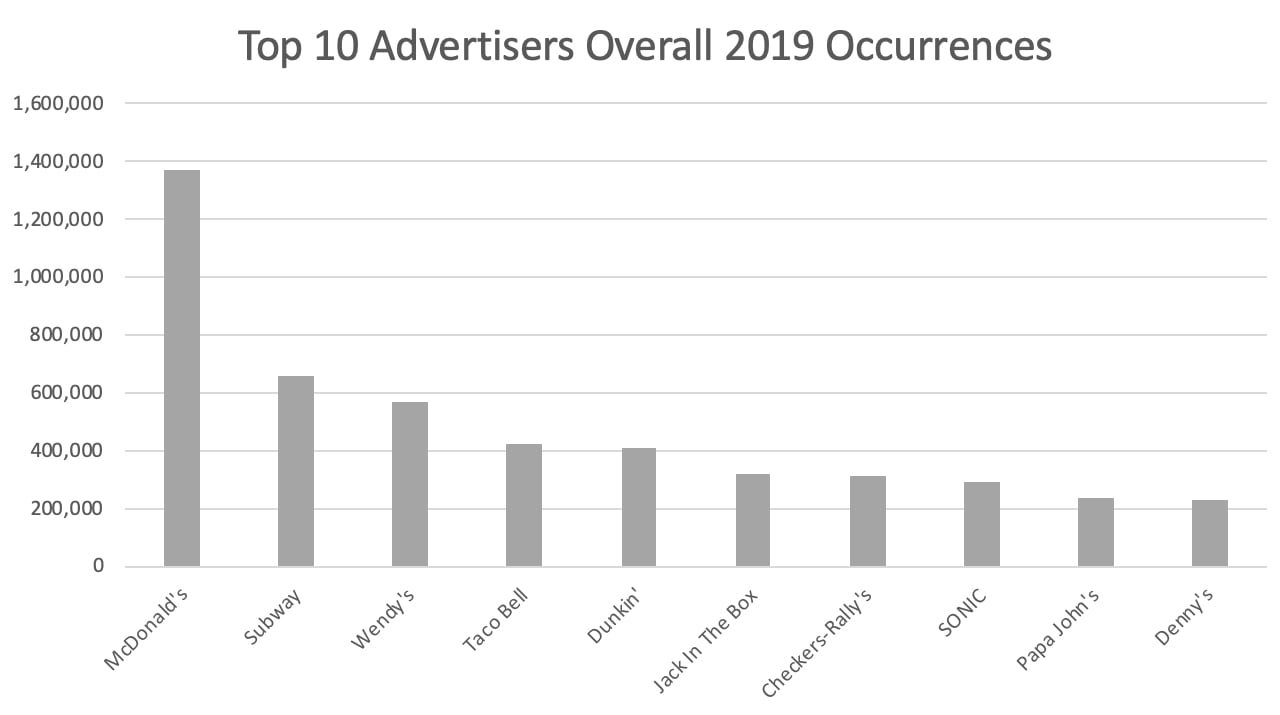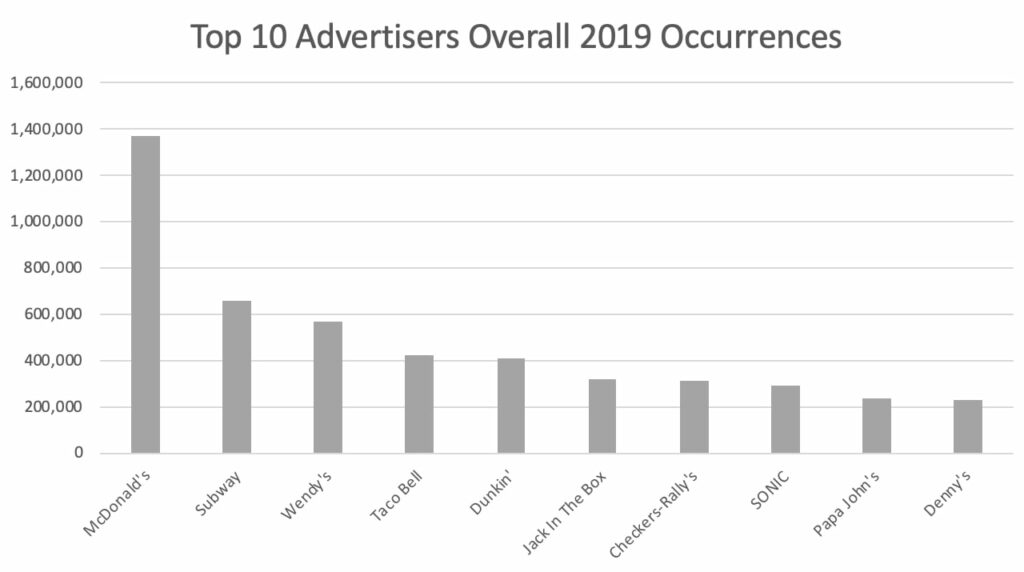 RADIO
McDonald's, Wendy's and Taco Bell led the ranking of radio advertisers for the segment. With breakfast representing 8% of total US sales, Wendy's announced in August that it would launch a $15 million marketing campaign for the rest of 2020. The fast food chain aired 537,837 spots across radio, television and cable, but 394,613 of those spots were on radio.
"The best time to entice hungry diners is while they're in the car, making radio advertising even more valuable for fast food marketers," says Generali. "With schools and other activities reopening, people are learning how to live with the virus, so they're venturing out more. Fast food offers the flexibility to eat out but not have to dine inside a restaurant. This advantage, combined with the value of the meal, makes fast food just right for today's pandemic economy."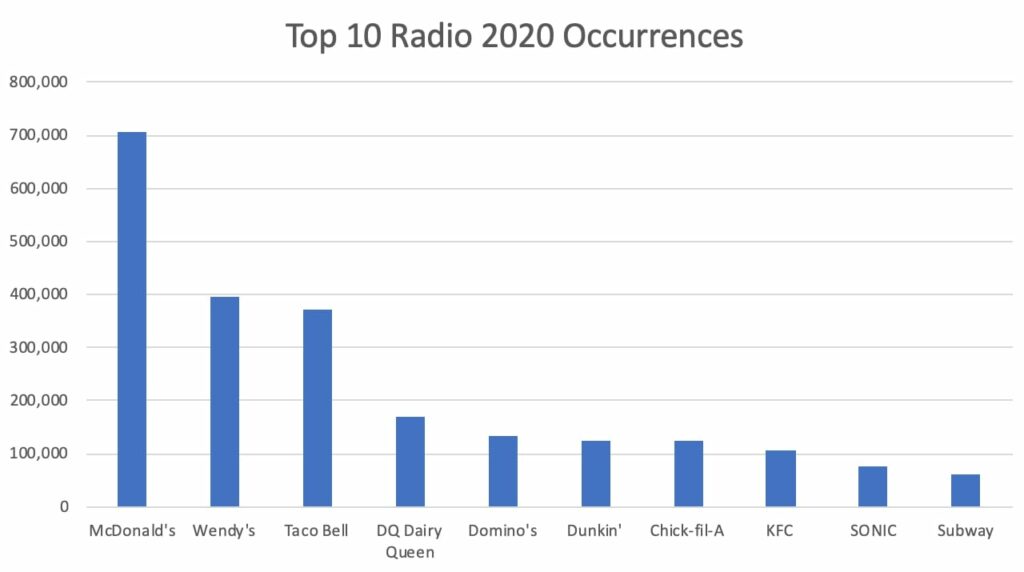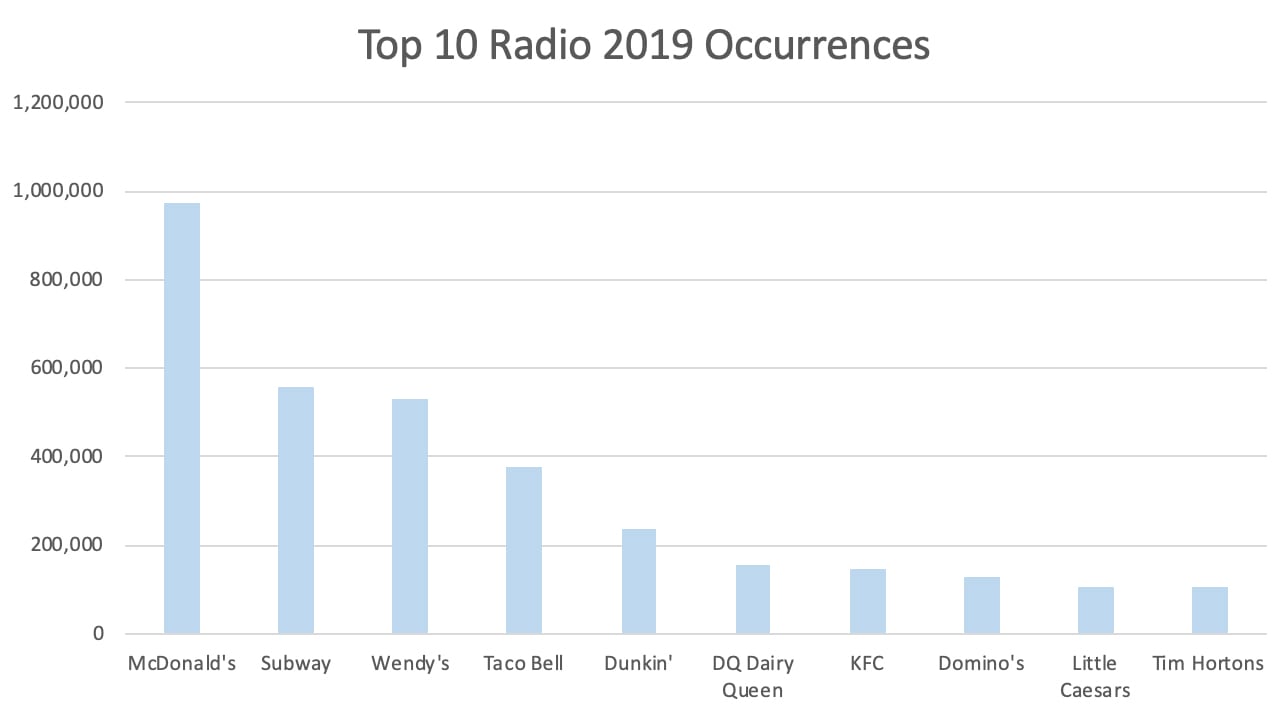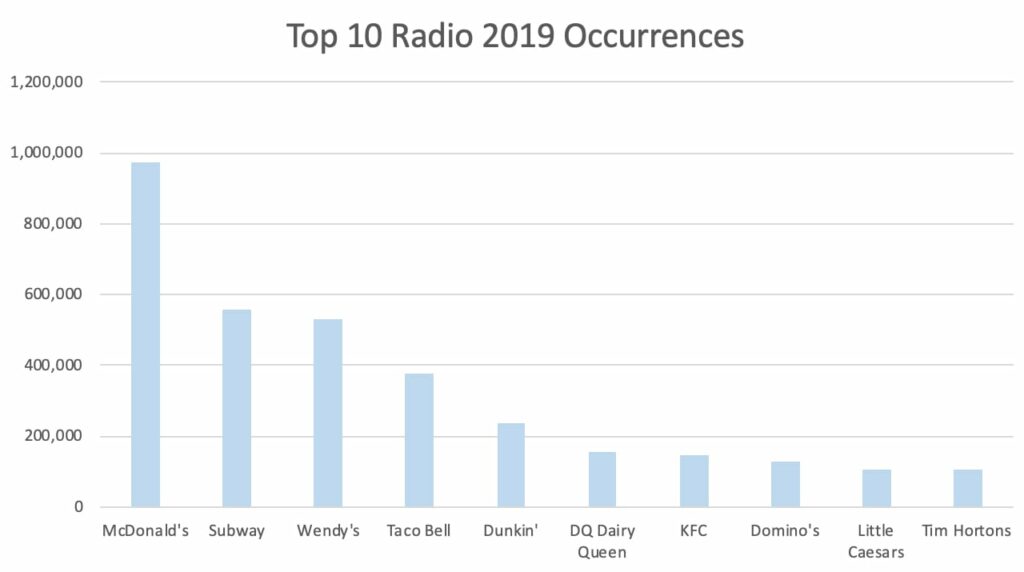 TELEVISION
For the second year, McDonald's, Jack-in the Box and Checkers-Rally's led the rankings. However, Jack In the Box increased the number of its spots by 5,000, and edged Checkers-Rally to claim the #2 spot.
Papa John's also moved up in the rankings, from #6 in 2019 to #4 in 2020.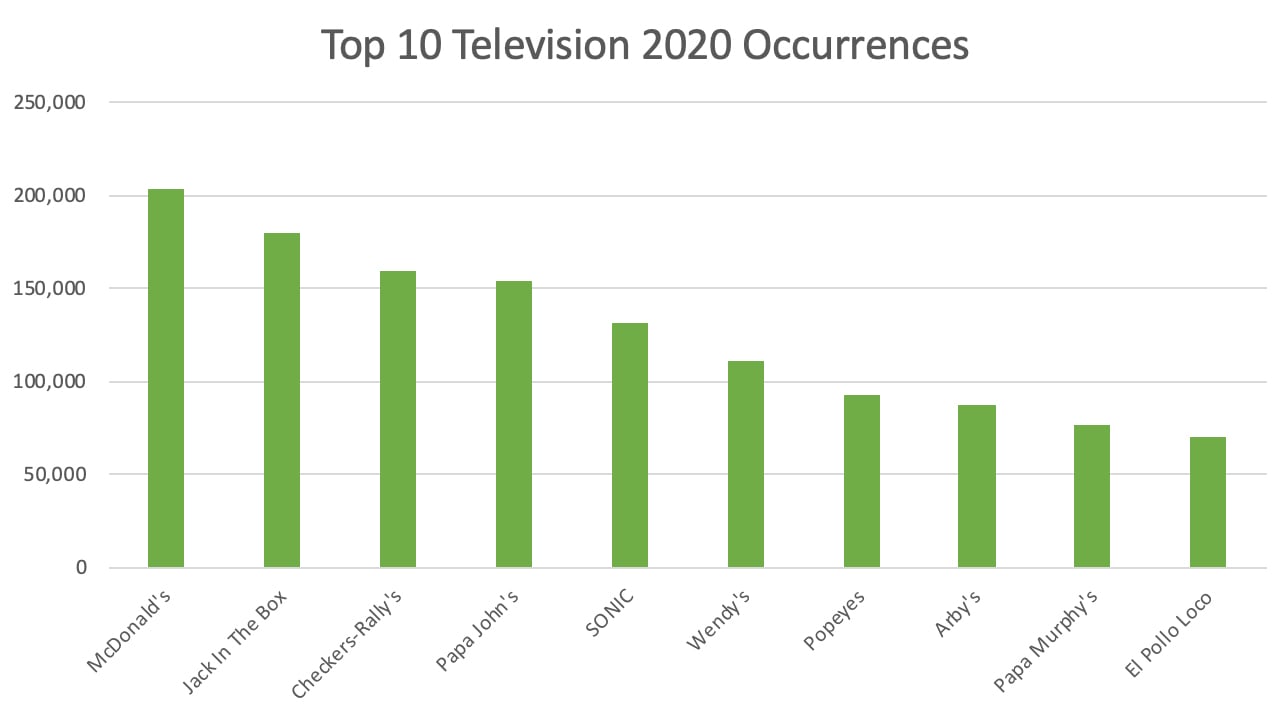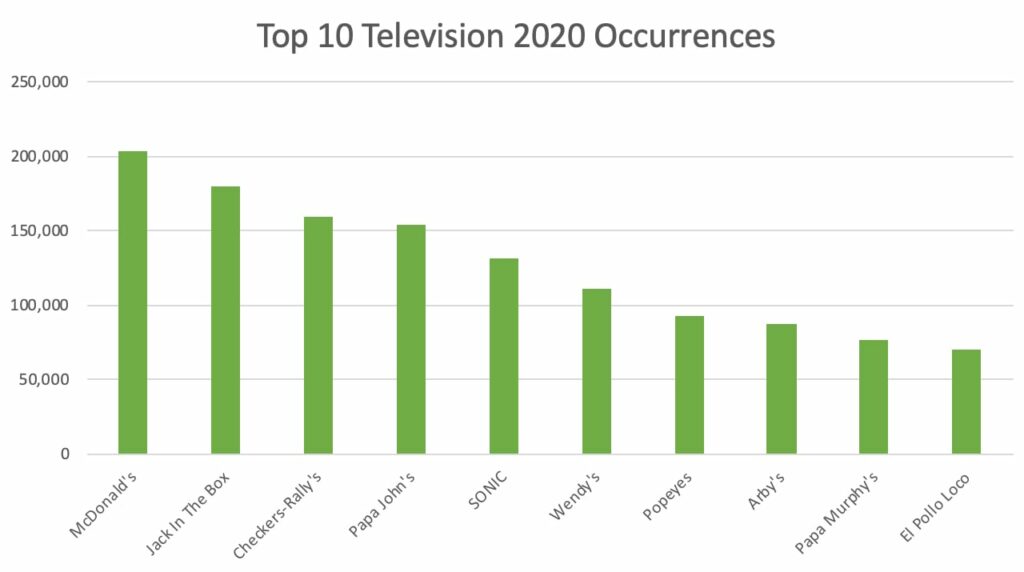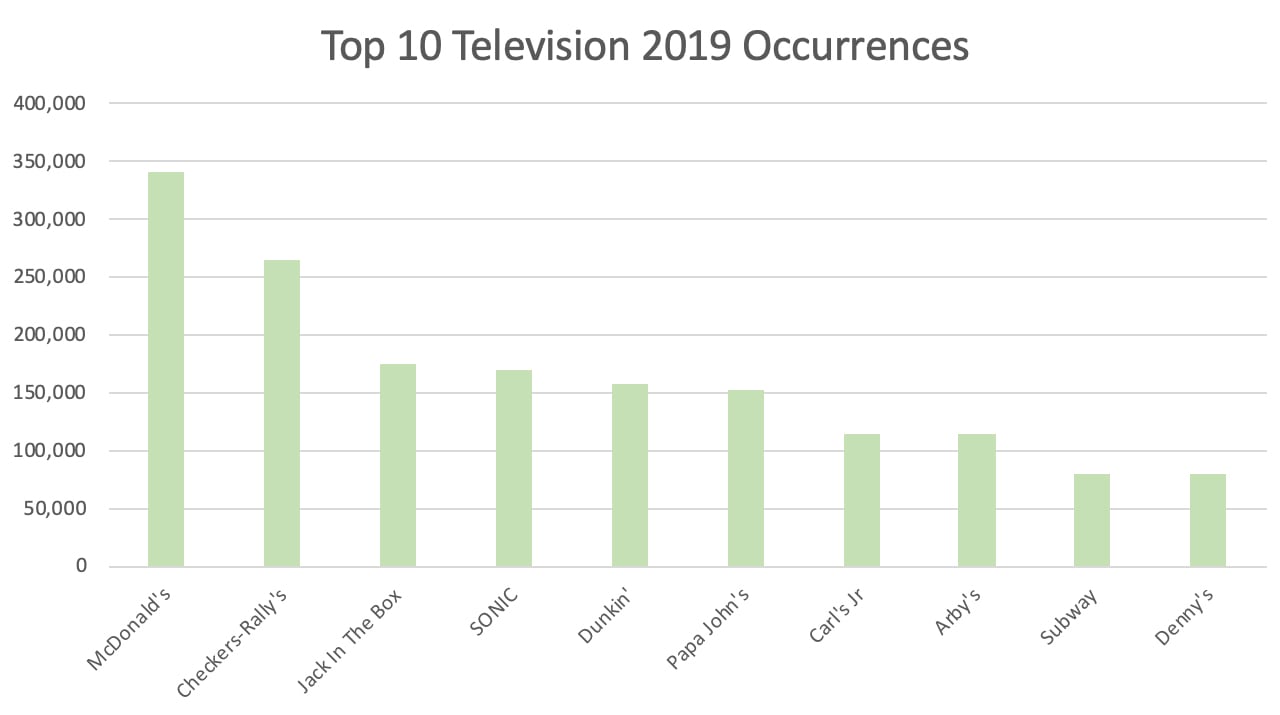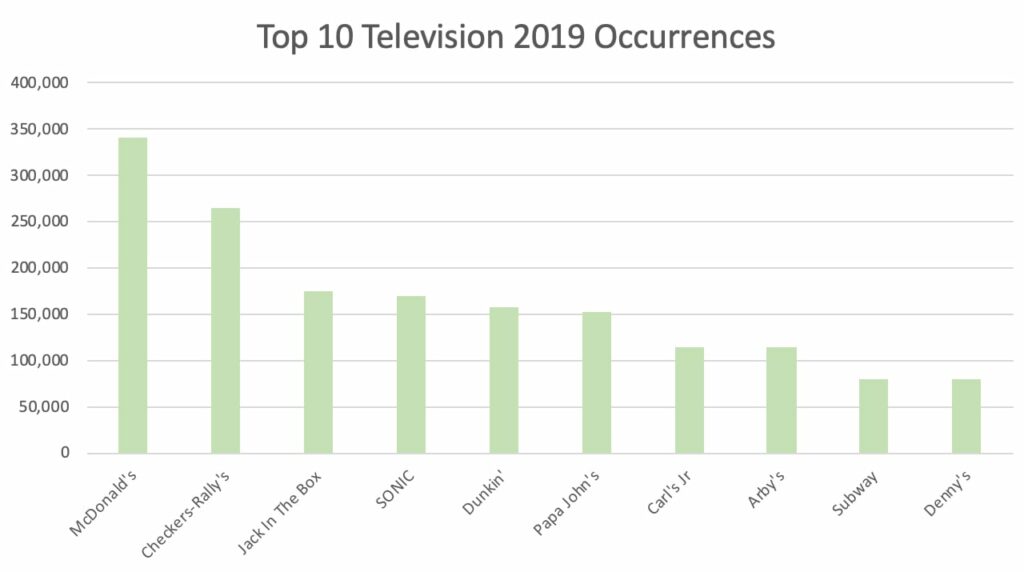 CABLE
On cable, the top fast food advertisers were Wendy's, Church's Chicken, and Denny's. Church's Chicken, which experienced a turnaround in 2019, held advertising steady in 2020. Its sales maintained positive growth throughout the pandemic.